Fit By Christmas Challenge!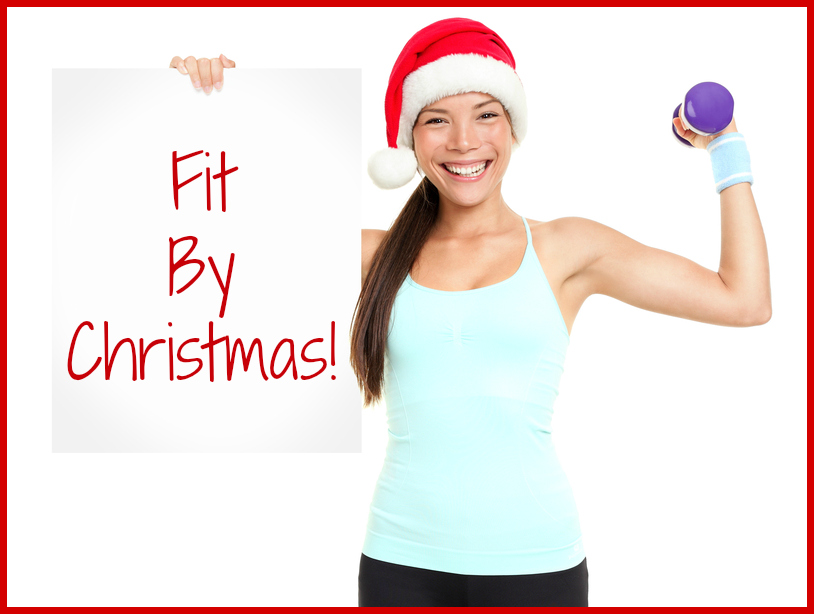 Fit By Christmas Challenge!
Did you know the average weight gain over the holidays is 10 lbs.?  TEN POUNDS!!!  Um, yeah, I don't think so!  Not happening for me!  That's why I'm hosting our Fit By Christmas Challenge!  This accountability group will take you through Thanksgiving AND Christmas WITHOUT that excess baggage!  Sound good? Oh yeah!
Ok, let's be honest – how many of you HAVE a copy of Insanity… or P90X… or TurboFire… or some other fantastic workout program…that's hiding away in a closet somewhere?  Your intentions were great when you purchased it or borrowed it from a friend, but then life got busy and hey, you get plenty of exercise just chasing those kiddos around, right?  So, while we're being honest here, are you seeing the results you wanted?  Have you gotten rid of the baby weight?
Good news!  You are not alone!  And you certainly don't have to figure out the whole fitness/weight loss/gettin' healthy thing on your own!  Christmas can be chaos for us AND for our fitness/health. But this year, it doesn't have to be.  Starting Monday, November 3rd, our Fit By Christmas Challenge Group begins!  Ladies from all over (literally all over the world – we've had challengers from all over the place!) can join together to combat the holiday weight gain! Busy moms, just like YOU! Join the fun!
Any program is welcome in this Challenge but I am more than willing to walk you through finding the perfect plan for YOU.  We can chat via Facebook or even jump on a Skype call and figure out your best plan of action  We'll pair up our fitness with clean eating, including a daily serving of Shakeology.  And to top it all off, we add in the amazing support of the Challenge Group!  How many times have you started and then quit after a few days or weeks?  Not this time!  You'll have your own personal cheerleaders, all going through the same thing as you – busy moms wanting to take their health back!    For this holiday season, we'll commit together to reclaiming our health.  Are you in?  I sure am!  This is totally what I need right now!  Join me!
Special note for MEN!!  Feeling left out?  No worries!  My hubby, also a coach, will be focusing on a men's group as well, the Body Beast Challenge!  If you want to join in the fun, go ahead and fill out the same form below, and we'll get  you in the men's Challenge Group! The primary program in the men's group will be Body Beast (currently discounted!) but again, any program is welcome!
Here's the requirements for the Challenge Group:
Commit to a workout program schedule for the full 30 days.

Drink Shakeology – THE premium health shake – once a day.

Participate in our secret Facebook group by reporting workouts and food.

Be willing to be encouraged and supported by a coach and team members dedicated to helping YOU get the best results!
If YOU are:
Serious about making a change in your health

Wanting a step-by-step blueprint to making that change

Interested in being a part of a support group with others who have similar goals to you

Ready and willing to invest in your own health
…Then this challenge is for YOU!
Cost: Free to join! Only expense is your Shakeology and fitness program if you don't already have one!
Recommended programs for our Fit By Christmas Challenge: Our current Challengers have seen huge success with the new 21 Day Fix!  This is usually the program that I recommend for beginners now.  If you feel you'd like to give something else a try, go ahead and browse through all our Challenge Pack choices HERE!  Once you submit your group application, I'll get in contact with you and we can figure out what program is the perfect fit for YOU!
* Want to join this Challenge AND be eligible to earn some extra Christmas spending money along the way?  Ask me how when you submit your application!
Get ready for RESULTS!
Our group starts November 3rd so grab your spot now!  Fill out the application below and we'll get in touch with shortly!  The deadline to submit your application is October 28th so act now!  Let's get started!
JOINING IS EASY!  BUT DON'T DELAY; SPOTS ARE LIMITED!!!
Technology is awesome but occasionally has its glitches. So, if you haven't heard back from us within 24 hours of submitting your enrollment form, please post on the Simple Health Source Facebook page (https://www.facebook.com/CoachSueann) to let us know! * Also, please check your SPAM box as your confirmation email may have been sent there! * Save time in your enrollment process and go ahead and shoot me a Facebook friend request at https://www.facebook.com/susan.kihleng!