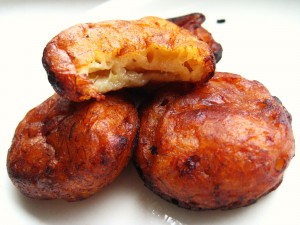 As you may or may not know, I live on a small island in the South Pacific, called Pohnpei.  I love my little island home and just about everything about it!  A lot of the traditional local food can be a big adjustment to foreigners visiting here but one recipe that pretty much EVERYONE loves is Diduhs – basically it's banana fritters.  I've tried to make a somewhat healthier version of the traditional way that I think works pretty good – give it a try and let me know what you think!
Banana Fritters (Diduhs)
3 overripe bananas, slightly mashed
1/2 cup whole wheat flour
3 tsp sugar or honey
Coconut oil for frying
Heat coconut oil in frying pan over medium heat until hot.  Combine bananas, flour, and sugar or honey.  Gently drop small balls of the batter into the hot oil and fry about 1 minute until golden, turning frequently.  Remove from oil and drain on a paper towel.  Serve hot! Enjoy a little taste of Pohnpei!