Pasta with Kale and Turkey Sausage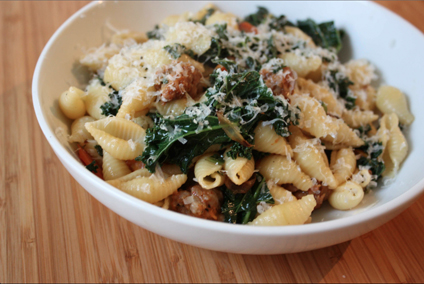 Pasta with Kaleo and Turkey Sausage recipe!  Enjoy your pasta with this recipe that's packed with turkey sausage and veggies!
Total Time: 35 min.
Prep Time: 10 min.
Cooking Time: 25 min.
Yield: 4 servings
Ingredients:
6 oz. dry whole wheat pasta
1 tsp. olive oil
½ medium yellow (or orange) bell pepper, chopped
½ medium onion, chopped
8 oz. Italian-style turkey sausage, chopped
1 clove garlic, finely chopped
Sea salt and ground black pepper (to taste; optional)
½ cup low-sodium, organic fat-free chicken broth
1 bunch kale, ribs removed, chopped (about 3 cups)
1 Tbsp. shredded Parmesan cheese (to taste; optional)
Preparation:
1. Cook pasta according to package directions. Set aside.
2. Heat large skillet over medium heat.
3. Add oil, bell pepper, and onion. Cook, stirring frequently, for 4 to 5 minutes, or until onions are translucent.
4. Add sausage and garlic, Season with salt and pepper if desired; cook, stirring frequently, for 5 to 7 minutes, or until sausage starts to brown.
5. Add broth and kale. Cook, stirring occasionally, adding additional broth or water as needed, for 4 to 5 minutes, or until kale is soft.
6. Add pasta to sausage mixture.
7. Top with cheese if desired.
Nutritional Information (per serving):
Calories: 321
Fat: 8 g
Saturated Fat: 2 g
Cholesterol: 43 mg
Sodium: 509 mg
Carbohydrate: 43 g
Fiber: 2 g
Sugar: 1 g
Protein: 23 g