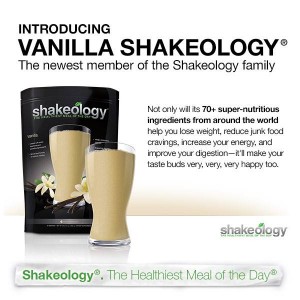 July is here!  And if you're one of the many who have hit that summer slump with your health and fitness goals, I've got some good news for you.  Wait!  Not just good news – GREAT news!  We have two new additions to the Team Beachbody family to get you out of that summer slump.  First off…and this is one I've been waiting for anxiously for a LONG time…Vanilla Shakeology is now available!  Why has it taken so long for this flavor to be released?  So glad you asked. 🙂  Something you should know about Team Beachbody – we don't settle for second best…we don't settle for good…we aim at the BEST and for GREAT!  You've probably seen a lot of vanilla shakes out there that claim to be "all natural" using "natural vanilla".  But the truth is, most of those contain chemical additives and vanilla "knockoffs".  NOT Shakeology though!  The nutritional team at Beachbody has spent the last two years perfecting the taste and formula for a true, all natural vanilla shake that is 100% pure!  And they succeeded!  I was able to try out the new Vanilla and it is amazing!  It's definitely going to be a new favorite in our house!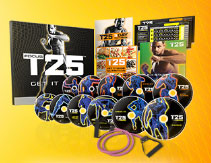 Secondly, to get out of that summer slump, how about a new workout program?  I don't mean just any program…why not try Shaun T's brand new Focus T25?  I also got to try out this program (live with Shaun T himself, btw!) and wow!  It gets the job done!  This workout is perfect if you are short on time or just don't feel ready to commit to long workouts.  Each workout is just 25 minutes long.  This program is all about getting results and getting them fast!  And unlike Shaun T's other intense workouts, lower impact modifications are shown for every move.
Sound good?  Great?  What's even better?  For the month of July these are offered together in a Challenge Pack at a discount price – after July 31st, the Challenge Pack price will be considerable more so grab these awesome products at the introductory price while it's available!  We'll be holding a Focus T25 Challenge Group on our secret Facebook page starting the beginning of August, so you'll have plenty of time to get your Challenge Pack in the mail and get ready to bring it!
Make plans to get out of your summer slump now!  I'm here to support you…my team is here to support you!  Let's do this together!