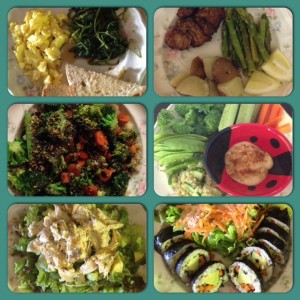 If you've been following my blog or Facebook page, you most likely know that for the past three weeks we've been doing the Ultimate Reset at our house.  In fact, my last blog post was about Alkaline and Acidic foods and steps to take to alkalize our bodies, which is an important part of the Ultimate Reset.  So as a continuation of that post, I wanted to give you a glimpse into life on the Ultimate Reset.  I know many people take a look at the Ultimate Reset and immediately think "That's not for me!"  Ok, I was one of those at first!  But I knew I couldn't pass honest judgement until I gave it an honest try.  Am I ever glad I did!  This is my second time through the Reset and yet, even this time through has completely changed my view of health and eating.  Yes, the food is healthy, but it's SO GOOD!  I hadn't expected that!  AND you get to eat quite a bit!  So I thought I'd share with you just a sampling of the Ultimate Reset by posting one of our favorite meals from it, Asian Stir Fry with Quinoa.  Each of the foods in this meal are specifically alkaline and will help to balance your system.  I had thought just eating veggies and grains would never fill me up, but I was wrong!  So give this meal a try and see what you think!  I'd love to hear from you too, how you enjoyed it!
Asian Stir Fry
(this is just for 1 serving; feel free to multiply depending on how many you're serving.  There's 7 at our house so obviously I had to make considerably more than this!)
1 Tbsp coconut oil
2 cloves garlic, chopped
1 Tbsp grated fresh ginger
1/2 meadium carrot, cut into thin diagonal slices
1/2 cup broccoli florets
1/4 medium red bell pepper, sliced
1 small head bok choy, chopped into bite-sized chunks
1 1/2 tsp sesame oil
1 Tbsp Bragg Liquid Aminos
Heat coconut oil in large skillet or wok over high heat.  Add garlic, ginger, and carrot; cook, stirring constantly, for 1 minute.  Add broccoli; cook, stirring frequently, for 4 to 5 minutes.  Add bell pepper and bok choy.  Reduce heat to medium.  Cook 2 to 3 minutes or until tender-crisp.  Turn off heat.  Add sesame oil and Bragg Liquid Aminos.  Mix well.  Serve over 3/4 cup cooked Quinoa.